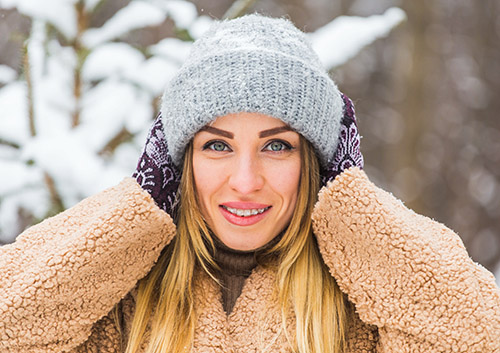 First, let's clarify what we mean about clear braces. We're not talking about clear aligners, which can be a great option if you want treatment that is a) removable and b) almost invisible. But sometimes only traditional brackets-and-wires braces will do when it comes to your orthodontic treatment. Does this mean you can't opt for a more subtle, less visible treatment plan?
No! Orthodontic advances in materials and design mean that you have more options than ever before when it comes to selecting brackets and wires. If you prefer more inconspicuous braces for professional or personal reasons, some of the current options in clear braces might be just the (inconspicuous) look for you.
"Clear braces" can refer to several styles of brackets and wires:
Brackets themselves can be crafted in porcelain, ceramic, or plastic. High quality materials make them strong and stain-resistant.
Brackets can be transparent or can be carefully tinted to blend in with your enamel.
Some of these brackets require the usual ligatures (those tiny rubber bands holding the wire to the brackets), so it's important to choose a band color to coordinate for a monochromatic look.
Some of these brackets are self-ligating, designed to hold the archwire with built-in clips and needing no ligatures at all.
Finally, there are coated and even non-metallic archwires that are designed to blend in with your enamel color and work without calling attention to themselves. Depending on your individual bite and tooth alignment, these wires might be an option.
Some of the common questions about clear braces include:
Can everyone use clear braces?
While clear braces generally function just as traditional metal braces do, there are some cases where they might not be ideal depending on the amount and type of alignment and bite correction you need. Dr. Joseph Gregg will let you know the best options to treat your orthodontic problems as effectively as possible.
Are they as strong as typical metal braces?
Clear brackets are quite strong, but they're not as durable as metal brackets. If you choose porcelain, ceramic, or plastic brackets, we'll give you all the information you need for their care.
Do clear braces take longer to work?
They might take a bit more time to bring your teeth into alignment, or they could work just as quickly as traditional braces. They often take less time than aligners. Today's orthodontic treatments work more efficiently and therefore more quickly than ever before, so if there are any differences in wear-time, they probably won't be significant.
Your individual orthodontic needs will dictate how long any treatment plan will take, and if different treatment options will add or save you time. Before you choose any orthodontic plan, we'll go over all your options and give you an estimate for treatment time for each of them.
Any notable differences from metal brackets?
Clear brackets can be larger than metal versions. Because they can also be somewhat abrasive, they might be suggested only for your upper teeth. We'll let you know if these brackets are a good fit for you.
Today's clear brackets aren't prone to staining—that would certainly defeat the purpose of choosing them! We'll give you instructions on keeping them as clean and clear as possible. Do remember, if you use ligatures, that these little bands can stain if your diet is big on coffee, tea, cola, blueberries, or any other colorful food.
Are clear braces more expensive?
Cost of treatment is based on several factors, including the type of braces you select. We'll be happy to compare the costs of your various treatment options.
If you want the benefits of traditional braces, but don't necessarily want the visibility of regular metal brackets, consider the many transparent and tinted options available. Want more clarity? Talk to a member of our Greenwood orthodontic team! You might discover that clear braces are the clear choice to create your healthy, beautiful smile.