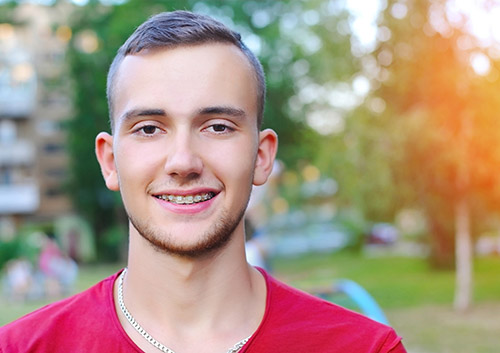 One of the sure signs that summer has arrived is the unmistakable aroma of barbecue drifting over backyards across the country.
If you're new to braces, you might be wondering just how many of your favorite outdoor treats can still go on your plate. Good news! You have a lot of braces-friendly options available—with a little extra planning on your part. Two things to remember: tools and textures.
We're not talking about spatulas and tongs and skewers—the barbecue tools we're talking about here are your knife and fork. Sure, many classic BBQ dishes are finger foods, but those are the very dishes which can cause problems for your braces.
Eating savory ribs or chicken legs, juicy burgers or hot dogs, or delicious corn on the cob the traditional way means biting into these foods with your front teeth. That biting puts a lot of pressure on your braces and can lead to bent wires and loose or broken brackets.
But there's a way to get around this without giving up on your tasty favorites! There's no rule against using your knife and fork at a BBQ, and there's no need to bite into foods when you can cut them up into small, manageable pieces.
If you remove meat from bones before eating, if you deconstruct your grilled burger or brat by cutting it up into smaller pieces, if you slice the kernels off your corn on the cob, you can chew with your back teeth and avoid any damage to your brackets and wires. Cut grilled foods into manageable bites just like you do with your regular meals, and you won't be leaving the party early!
Now let's talk texture. Crunchy, hard, and sticky foods should never be on the menu when you're wearing braces. These foods can damage your wires and brackets or get stuck between your braces and your teeth.
This is a time for clever substitutions. Exchange the corn chips for soft potato or pasta salad. Trade crusty and seeded buns for softer, seedless versions. Skip the grilled sticky s'mores and enjoy creamy, soft ice cream instead—but without nuts or other crunchy, sticky additions, please!
Dr. Joseph Gregg and our team are happy to offer suggestions for what to eat and how to eat it safely while you're in braces at our Greenwood orthodontic office. There are unavoidable events that can put a damper on outdoor activities. Pouring rain and insect pests—not much we can do about those. But taking simple precautions with your braces means no bent wires and broken brackets to ruin your BBQ fun. Now, dig in!